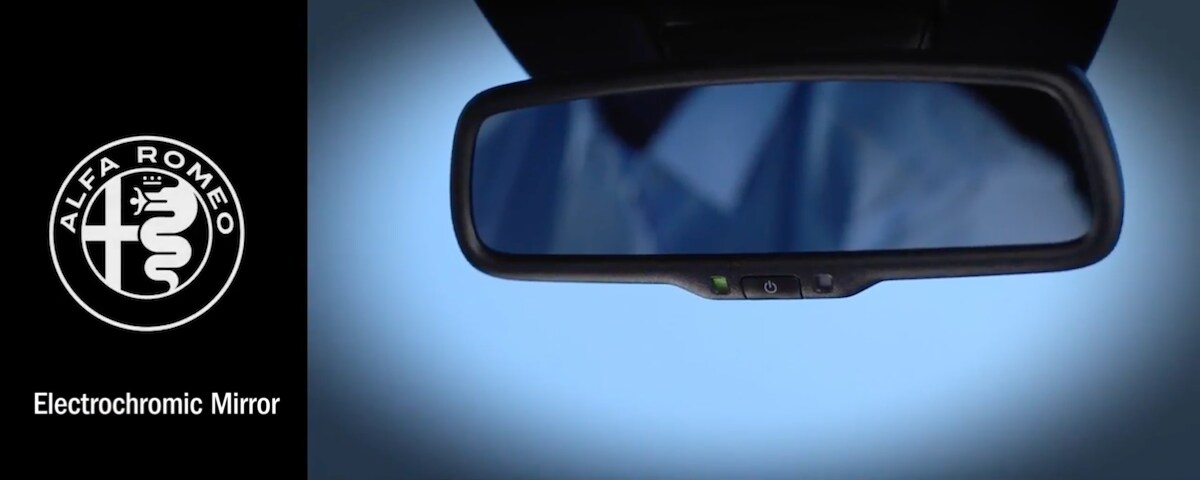 What Is An Electrochromic Mirror?
The Alfa Romeo Electrochromic Mirror is an exclusive piece of hardware designed to minimize headlight glare while driving at night. This high-tech mirror automatically detects light, and dims as necessary to reduce harmful light.
The standard-equipped mirror found on most cars is a design that goes back decades. Those old-school mirrors are designed to flip down when you want to reduce brightness, but end up limiting rear visibility altogether. Even worse, it's not uncommon for drivers to forget about the mirror, resulting in reduced visibility during the day if not switched back. The Alfa Romeo Electrochromic Mirror solves this problem, meaning you never have to flip down your mirror again! Even better, this new style of rear-view mirror dims only when needed, providing maximum visibility at all times, only dimming when exposed to bright and harmful lights.
How to Use Alfa Romeo Electrochromic Mirror
While driving, press the power button at the center of your Electrochromic rear-view mirror.
Confirm that the green light is illuminated to the left of the power button.
The Electrochromic rear-view mirror will now be active, and will automatically dim when exposed to bright light.
To aid with visibility, the Electrochromic mirror will automatically shut off when the vehicle is placed in reverse. It will re-activate when shifted to Park or Drive.
New Alfa Romeo Vehicles With The Electrochromic Mirror
The Alfa Romeo Electrochromic Mirror, as featured on the new Alfa Romeo Giulia and Stelvio, is just one of many new high-tech features currently available. For more information about Alfa Romeo Electrochromic Mirror, or how to activate and use it, call us at (844) 493-8109 to speak with one of our friendly and knowledgeable teammates. Don't forget to check out our inventory of new Alfa Romeo models for sale, most of which feature the Electrochromic Mirror.